We, at Better Deal Machineries Pvt. Ltd., are an esteemed name in the engineering sector and are engaged in manufacturing and exporting a wide range of liquid oxygen nitrogen plants that work in compliance with the plants of North American and European Pharmacopoeia standards. We manufacture plants in small, medium and large capacity. Widely applicable in a number of industries such as water process, ferrous metallurgy, non-ferrous metal refinery, coal mines and pharmacy, our outputs can be availed at industry leading prices.

We offer liquid oxygen nitrogen producing plant which is compact and can be installed easily. Our engineers put hard effort to deliver the device with perfection. Constructed in integral gas vaporizer which offers elevated efficiency, our plants are designed and developed as per international standards. Since skid mounted technology is very useful, we incorporated the technology to make our plants work as per the plants of international standard.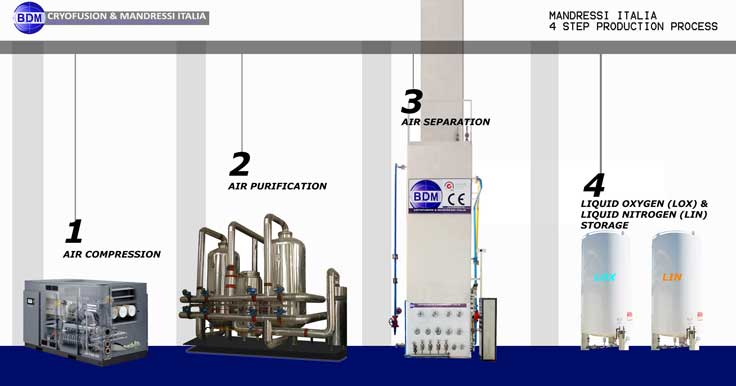 FEATURES :

Make the plant compact and easy to install
Built in liquid oxygen pump for high pressure oxygen filling
Medical grade oxygen owing to stainless steel column as per American/European pharmacopoeia

With over 28 years of experience and technical workforce, BDM manufactures and exports plants that consume less power and require less upkeep expenses. Made using latest technology, this plant is ideal for various industrial applications. Apart from flawless output, the plant has minimum life span of 25 to 30 years. On the other hand, our plants are operating at a working pressure of 6 to 8 bar.
In addition, we have well equipped production units to manufacture technologically advanced liquid oxygen nitrogen plant. There is an R&D team also responsible for analyzing the industry requirement and update our products accordingly. We are not only an ISO certified company, but also have got CE approval for quality. Only a CE approved company can sell its products in USA and European market.
Technical Specifications
MODEL
LIQUID OXYGEN CAPACITY
PURITY OF OXYGEN
BDM L-50
55 Liters / hr
1.5 Tons per day
99.7%
BDM L-80
90 Liters / hr
2.5 Tons per day
99.7%
BDM L-100
100 Liters / hr
3 Tons per day
99.7%
BDM L-150
180 Liters / hr
5 Tons per day
99.7%
BDM L-200
215 Liters / hr
6 Tons per day
99.7%
BDM L-250
290 Liters / hr
8 Tons per day
99.7%
BDM L-300
360 Liters / hr
10 Tons per day
99.7%
BDM L-400
425 Liters / hr
12 Tons per day
99.7%
BDM L-500
540 Liters / hr
15 Tons per day
99.7%
BDM L-1000
1170 Liters / hr
30 Tons per day
99.7%
BDM L-1500
1755 Liters / hr
45 Tons per day
99.7%
BDM L-2000
2340 Liters / hr
60 Tons per day
99.7%
BDM L-3000
3515 Liters / hr
90 Tons per day
99.7%
BDM L-4000
4685 Liters / hr
120 Tons per day
99.7%
BDM L-5000
5850 Liters / hr
150 Tons per day
99.7%
NOTE : THE SAME PLANT CAN ALSO PRODUCE LIQUID NITROGEN ALONG WITH 99.9% PURITY.