With the years of experience and technological proficiency, Better Deal Machineries Pvt. Ltd. manufactures and exports a variety of technologically advanced and high performing acetylene plants. The plants are used in a number of industries to generate acetylene (C2H2). The acetylene is a compound of carbon and hydrogen that is colorless, garlic-like odor and highly flammable gas. Acetylene is created after having a chemical reaction between the calcium carbide and water. Acetylene gas burns along with oxygen as a cutting & welding torch and it offers the highest temperature of any known oxygen gas mixture.

With the presence of technically qualified workforce and well equipped manufacturing units, we have been successful in designing, manufacturing and installing acetylene plants at various locations worldwide. Our products are fully automatic and all their operations are performed automatically by pneumatically controlled valves along with latest sensors and temperature controller. We send engineers to provide training to the operators and engineers of our customers.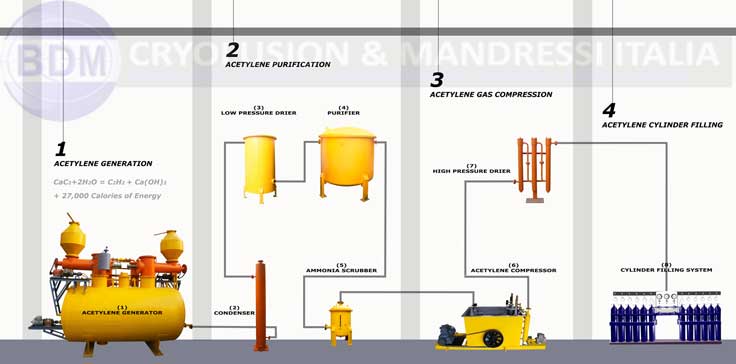 MAIN COMPONENTS OF ACETYLENE GAS PLANTS :
Since a plant is fabricated by employing a number of latest components and raw materials. Some important components of the plant include:
Acetylene Generator
Condenser
Low Pressure Dryer
Purifier
Ammonia Scrubber
Acetylene Compressor
High Pressure Drier
Filling Manifold with two
We are a manufacturer and supplier of Latest acetylene gas generation plants manufactured under the Brand Cryofusion and Mandressi Italia. Apart from selling the products in the international market, we also offer warranty/guarantee services along with round the clock technical support.
FEATURES OF OUR ACETYLENE PLANTS :

Excellent absorption of gas in cylinders
Robust design for optimum yield and trouble free working
No bulky gas holder required
Automatic controls for feeding water
Maintaining temperatures, pressures, and slurry drain are full proof, efficient and are of world-class standard
Excellent absorption of gas in cylinders
No gas loss and high yield
Very simple and easy to operate
Low power consumption & low maintenance cost
Our intensive research and international designing facilities help us to manufacture the acetylene gas plant, which is highly versatile and automatic. In addition, we use raw materials from CE approved vendors in order to ensure long life of our plants. We have crafted a team to check quality of our products and thus we make sure our clients get a perfect product. Since our products are fully automatic, people from all over the world are purchasing and using them.

We serve our clients round the clock. If you have a query, just contact us. Our customer care executives serve you best with the best offer. You can contact with engineers too in order to solve your technical query.